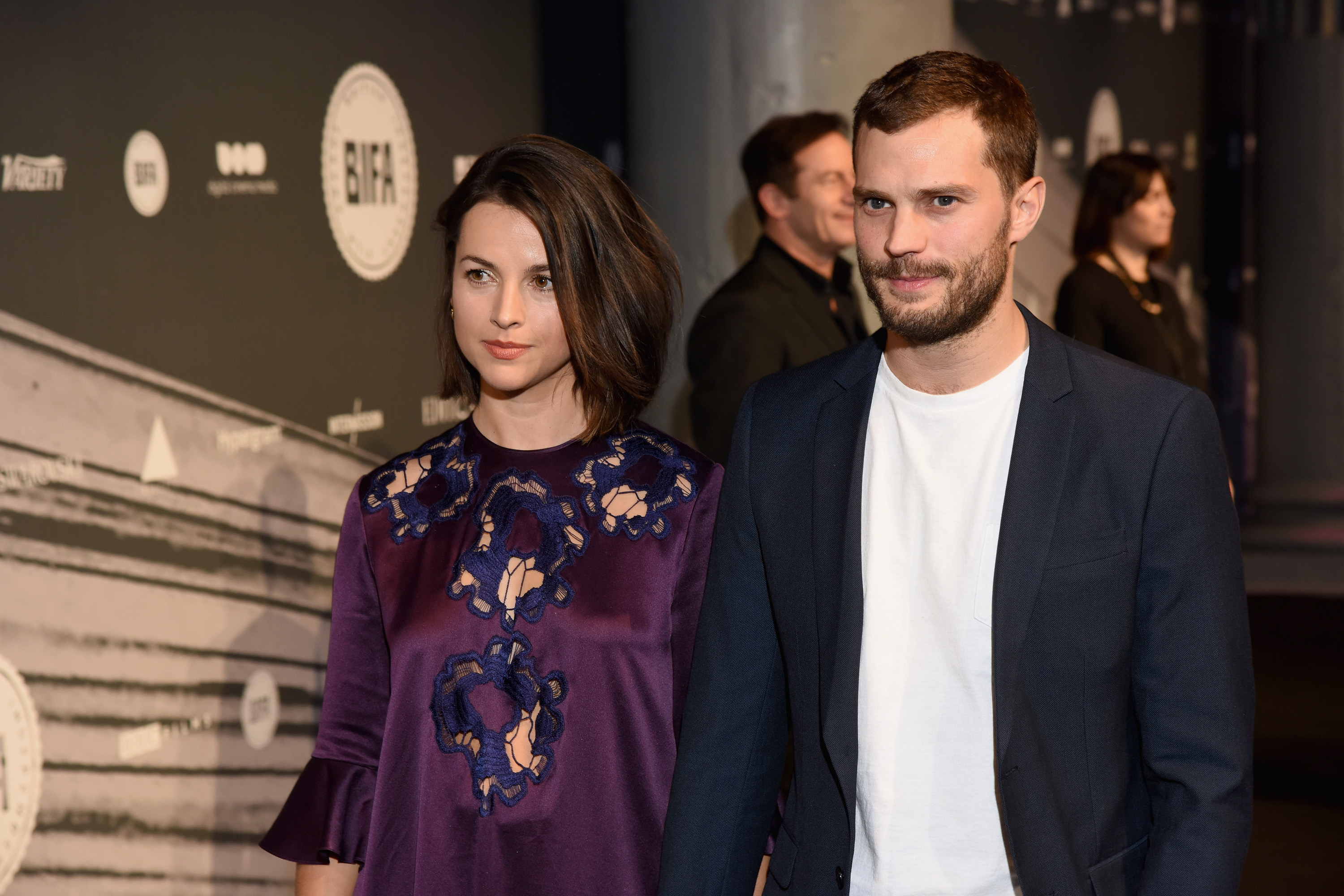 It was a night celebrating the best in British Independent Film and our favourite Irishman was in attendance.
Jamie Dornan and wife Amelia Warner attended the 2016 BIFA's on Sunday in London at the Old Billingsgate Market. Dornan was nominated for Best Supporting Actor for his role as Jan Kubiš in Sean Ellis' 'Anthropoid.'
Dornan doesn't need to dress to impress, especially when you're GLAMOUR UK's Sexiest Man of 2017, having just won the title in 2015 as well. But still, his simple wardrobe has us all swooning regardless. Dornan donned his signature style; an open breasted blue jacket with a plain white tee, dress pants and white sneakers. Perhaps he's saving the fashion limelight for wife Amelia, who rocked a Roksanda Resort 2017 purple dress and looked lovely strutting the red carpet hand-in-hand with her beau.
In a clip from BIFA's Black Carpet, Jamie stops to chat about Anthropoid and jokes about how he's never been invited to BIFA and that his invite to attend was only out of obligation due to his nomination. Dornan speaks highly of director Sean Ellis and co-star Cillian Murphy and talks about filming scenes in the middle of a sweltering July surrounded by fake snow. "…it was definitely a grueling shoot," Dornan explains, as he's dressed in heavy wool sweaters in the middle of the summer. Watch the clip below.
Although Dornan didn't win his nomination, the story of Anthropoid will stay with him (and his fans) forever. Of Jan's character, Dornan proudly proclaims 'I feel that Jan Kubiš is the closest character to myself that I've played,' and his bro-mance with co-star Cillian Murphy has goals written all over it.
Jamie doesn't seem to be rewarded for his various works in film, although his nominations are plentiful. But that doesn't mean he's not brilliant in his own right. We can all collectively agree that any role he plays has depth, variety and conviction and this front row seat into his blossoming career in film has been a privilege to behold. No award today but that doesn't mean it won't happen tomorrow.
You can find a myriad of Black Carpet and candid photos of Jamie and Amelia in our gallery by clicking the thumbnails below.