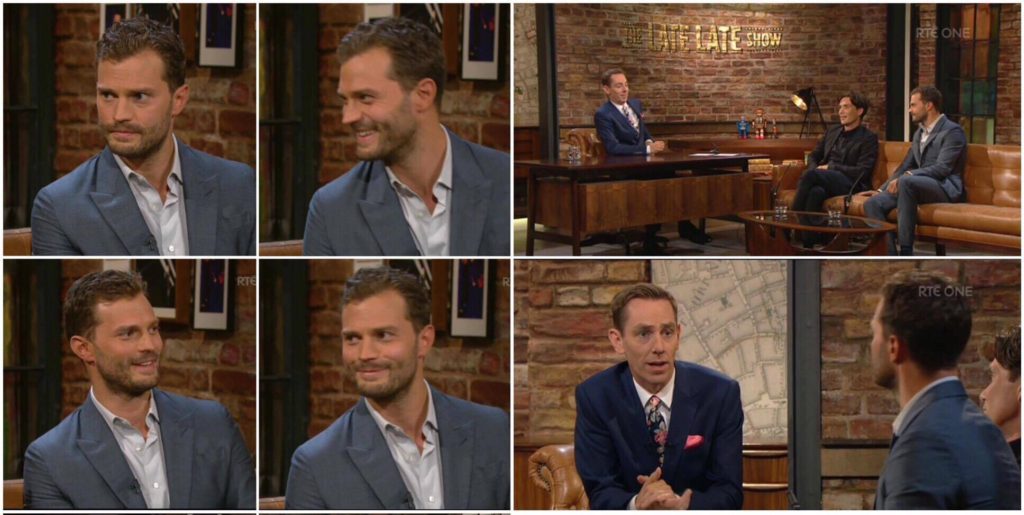 TWO IRISH STUDS graced RTE's Late Late Show on Friday evening in the season opener of the show and our eyeballs were throbbing. Jamie Dornan and Cillian Murphy sat down to chat with host Ryan Tubridy about current and upcoming projects, family life, being in the public eye and even had a few jokes along the way.
The pair have been on a nation wide press tour together and have developed a friendship that is clearly evident to the public and fans. The pair often joke or boast about each other while throwing in some inside jokes that even we feel we're in on. Cillian gloats about co-star Jamie throughout the interview, citing that he would "…binge watch the Fall with his wife," speaking highly of the character of Paul Spector. Ryan even went as far as to ask Jamie a burning question we were all dying to know the truth about; did he really stalk a woman to prepare for his role as Spector in The Fall? Dornan's response "…I observed someone on a tube once," citing that he didn't 'stalk' a women per se, rather experimented with the idea.
Dornan went on to discuss Fifty Shades Darker and Fifty Shades Freed, citing that production wrapped a mere four weeks ago after both films were filmed back to back. But what came to our surprise the most was news about The Fall. As Jamie had mentioned earlier today on an interview with BBC Radio, it was reiterated that The Fall would be having its third series premier at towards the end of September, a date much sooner than the fans collectively anticipated! There is still no official premier date as of yet but at least we now have a general idea. EXCITING!
The pair continued to laugh and giggle and share jokes with each other for the duration of the program, taking a minute to talk about life in the limelight and how they deal with that on a personal level. "It's not that hard," Dornan says, explaining that it's a frame of mind, something you remove yourself from. He spoke beautifully and breifly about his wife, being the private man that he is, and we were happy to know that Amelia is doing well.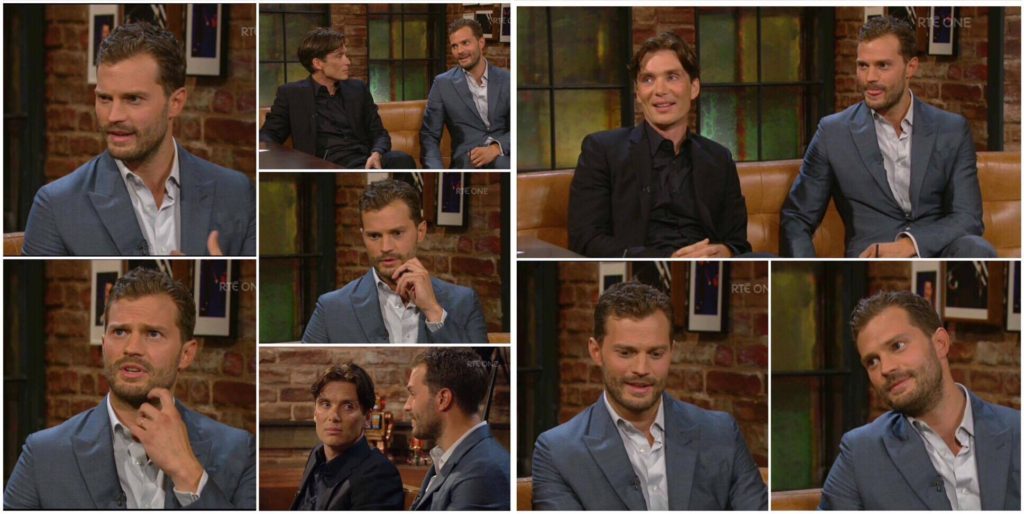 But can we talk about how good these two men have looked consistently throughout these past few days? The pair have rocked a tasteful and crisp collection of clothing through this weeks press tour. Cillian all dapper in dark's while Jamie has bestowed his signature blue colour on us; in clean cut blazers and suits tailored even better than Christian Grey's, a simple white tee or dress shirt and jeans that accentuate his beautiful behind, Jamie has dressed to impress all week long sending both fans and paparazzi into hysteria. With his beard in full bloom, our favourite Irishman is definitely taking some much needed time to get back to him, his family and the things (and people) he loves. The show ended with news of The Fall's September premier date and enthusiastic applause, accompanied by a few hoots and hollers – and rightly so.
But then again, you can always watch it for yourself because it's avilable on their app! Click here for details and submerge yourself into the statuesque glory that is our favourite Irishman.