AND WE THOUGHT YESTERDAY'S TEASER WAS AMAZING. Universal Pictures released the very first full length trailer to Fifty Shades Darker today and we've been fangirling, and fan-boying, all day long. Take a look below and watch the goosebumps grow!
Are you alive?! Yeah, us either. The trailer has some awesome scenes in it and really provides the fans with the 'darker' atmosphere of the film.
In the beginning, you can see Jack, Ana's boss, watching the fireworks display at the Grey Mansion from afar while the trailer then leads into Christian giving a gift to Ana, followed by the reveal of their masquerade ball masks and a burning questions left by Christian. "Intrigued?" he asks Anastasia, and we're guessing she more than is!
We're then whisked away to the ball where the flow of magic, dancing, lights leaves us captivated. Following this short scene, Ana is surprised by a votive of white long stemmed roses, sent by Christian in an attempt to get back his girl. "I want you back… I had no idea what this was going to become. Christian proclaims, while Ana responds with "I don't see how this can work." Christian is devastated at what he lost a mere five days ago and is desperate to have Ana back. In the next scene, he's seen (what looks to be) surprising her at José's art exhibit, where in the book, they traveled to the show together. Nevertheless, Ana is caught completely off guard when she sees a sullen Christian standing only a few feet away from her.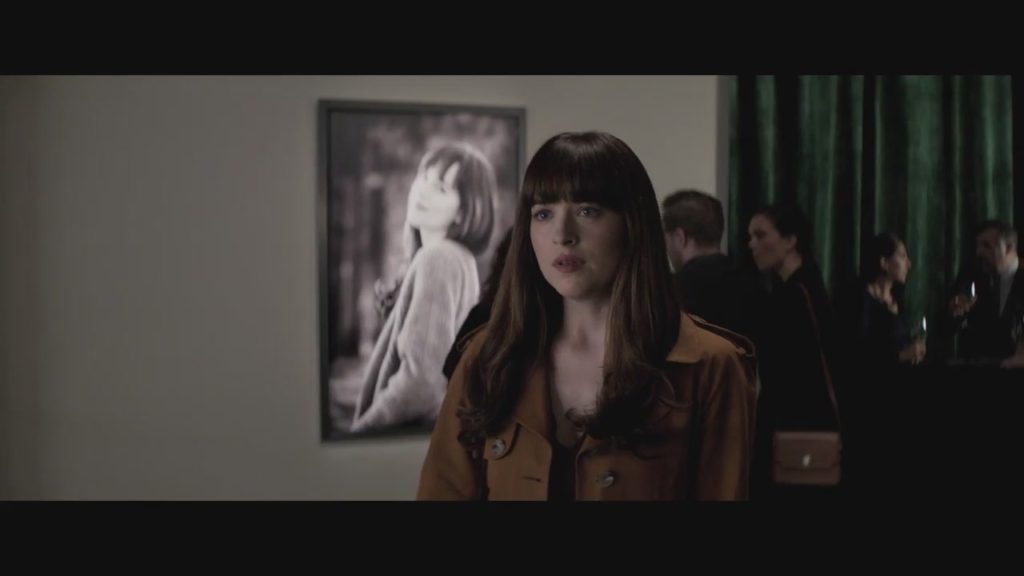 Next up, we head into what looks like Escala, Christian's home, where Anastasia is dressed in her evening gown from the ball, while Christian 'gawks' at her, as she details in the trailer. "Are you just going to stand there, gawking?" "Yes," Christian proclaims, because he's Christian Grey and if he wants to gawk, he'll gawk.
Onward into the bathroom where a heated shower scene and a half-naked Christian takes back his beloved Ana with formidable force. Ana doesn't seem to mind – and why would she?! The two are seen embracing passionately, careful not too give too much away. But damn – can we just talk about this man's Michelangelo physique for a second?! *insert heart eyes* Dornan as Grey is certainly how we expected him to be, and then some!
Next, we're catapulted into the Grey's pool house, where Christian will *spoiler* eventually propose to Ana at the end of the film. He begs the question "What do you want, Anastasia?" while the response is nothing short of curt. Ana gets to the point – if he wants to be with her, then he's going to have to conform to her and abandon his previous lifestyle. "This time, no rules. No punishments. And no more secrets," expressing the need for a vulnerable Christian – one who wants to share his world with her and she wants to share it with him.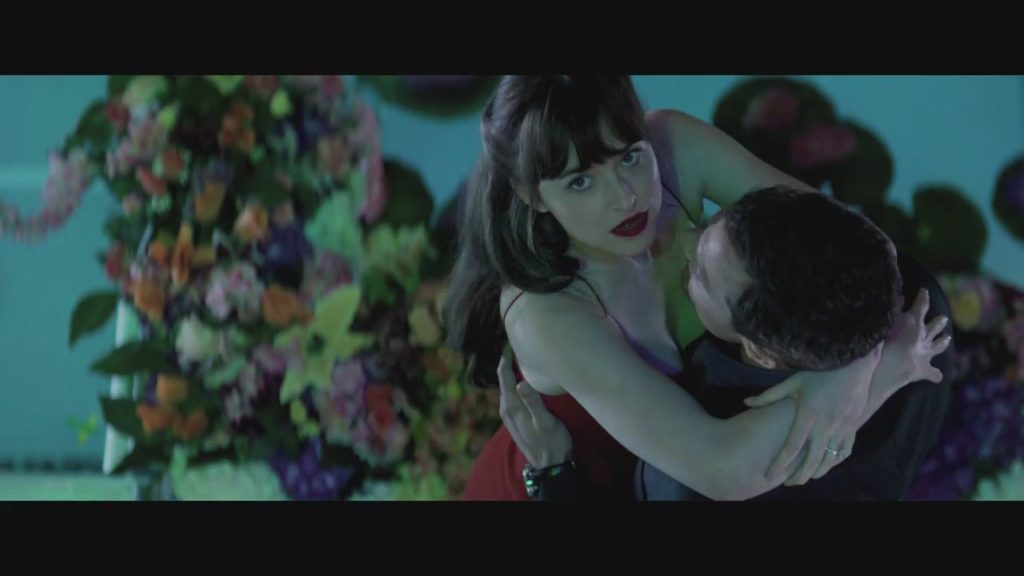 But speaking of secrets, next we find Ana and Christian sleeping in Ana's bed at her apartment. While Ana tosses and turns, she sees the image of a woman at the end of her bed, the bed Grey is sound asleep in. At second glance, she sees nothing there – but we the fans know that Leila is quietly lurking in the shadows, intrigued by Miss Steele.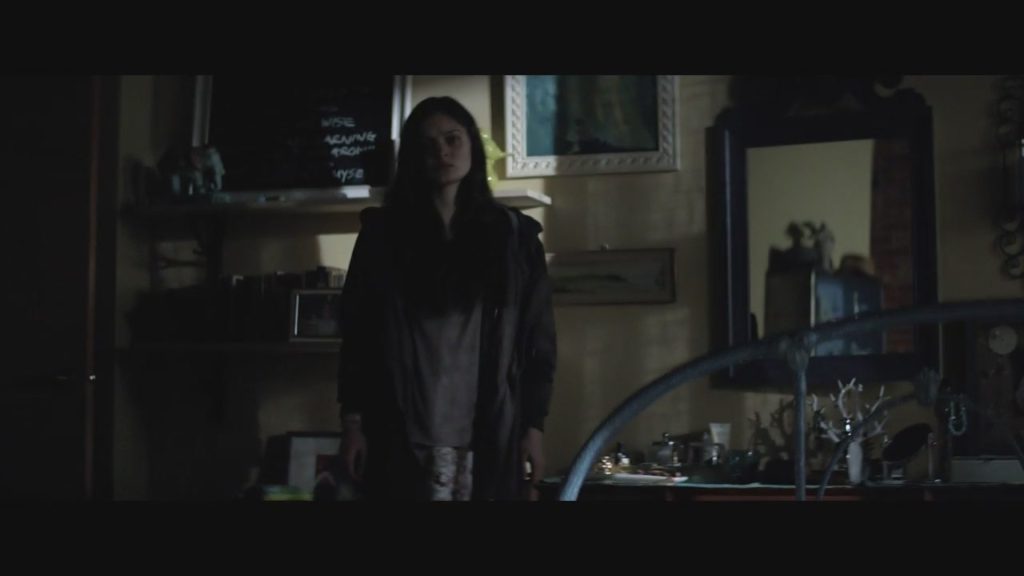 Now if that wasn't creepy enough, what the heck does Jack think he's doing? Barricading Ana in his office, with a silent 'Shhhh' as his fingers approach his lips. This is our first glimpse of Eric Johnson (hilariously funny man) as the sinister Jack Hyde.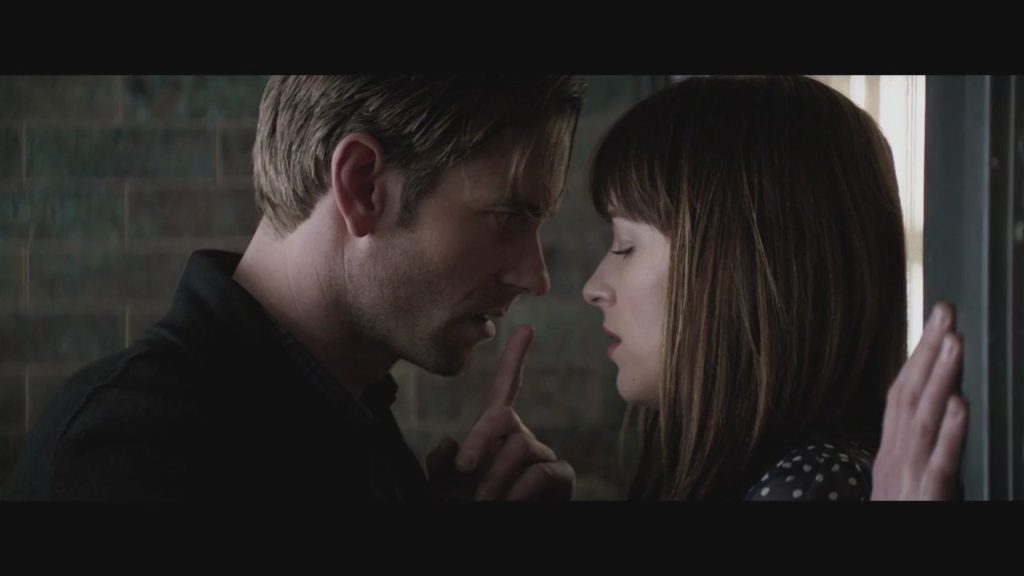 But let's up the macabre level a bit more and add in Christian's first Dominant, Elena – FINALLY a glimpse of Kim Basigner as the intimidating, blonde bombshell, Elena. Her role has us extremely feverish and wanting to see more of her in the film. Elena is seen at the ball as Ana walks vigorously away from her – a tell tale sign that the two have had a confrontation of sorts. What's happened?!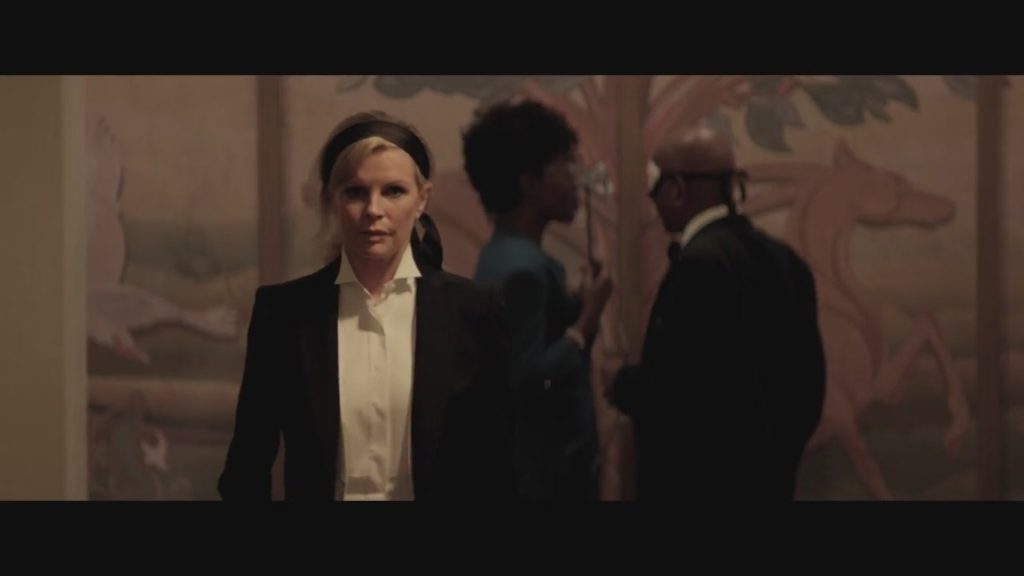 As scenes quickly begin to change in flashes of white light, we see Ana get out of her car, Christian and Taylor in tow, with expressions of shock and disbelief plastered across their faces. Is this where they see that someone has doused Ana's car in red paint? Who could it have been?
Finally, a barrage of scenes occur, where Ana and Christian are seen overlooking a file on Ana, Charlie Tango (Christian's helicopter) in mid tailspin, an eerie visitor in the stairway at the Grey Mansion during the ball and Ana rushing out of SIP into the embrace of her dark knight.
Lastly, the trailer ends with Ana, alone in her apartment, while Elena's voice is heard in the background saying "Do you think you're the first woman who's tried to save him?" It's slowly revealed that Ana is not in fact alone in her apartment as the camera shifts and reveals Leila standing behind her. 
A beautifully well done trailer that delivers on all levels. We all had an idea on what we'd like to see in the trailer and I think it pretty much covered it, without giving too much away.
One thing's for sure, we'll be watching it again and again and again and again until it's what our dreams are made of. Bravo on an excellent first trailer – it's definitely made the wait until February a little more bearable.
You can view over 160 HD screencaps from the trailer here and some stunning new UHQ stills of the film here.